Allez Hop
11/01/2017
Use ropes and cannons to catapult the circus acrobat into the air and try to reach extreme heights!
Category:arcade,skill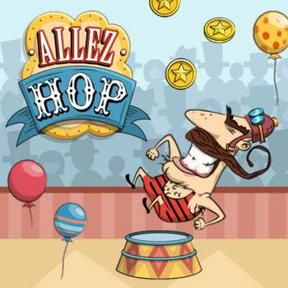 Recent
Solitaire Master Solitaire, FreeCell and Spiderette, the three most popular card games - all in one game! Objective is to clear the field by sorting the cards by suit and rank.
Bottle Flip Challenge .
Jewel Jungle Match at least 3 jewels of the same color to remove them from the field in this beautiful Match 3 game classic.
VIP Quiz Guess who the people on the pictures are and enter their names beneath.
Football Tricks World Cup 2014 Shoot the ball into the goal by determining its shot-strength and angle. Avoid the obstacles.
1010 Animals Your goal in this addictive puzzle game is to score as many points as possible. Drop cute animal blocks on the game field and try to create full vertical or horizontal lines.
Red and Green 2 Help the red and green monster reach the candy in this cute physics puzzle! Use your brain and plan ahead.
My Career Quiz .
Glow Lines Fill the whole board by matching equal colors. To succeed in every level you need to use your logical thinking.
Wordguess 2 Heavy In this more difficult version of Wordguess you have to think thorougly and combine the two pictures to guess the word.
Match 3 Squared Objective in this Match3 game with a twist is to match at least 3 same-colored blocks on the same side of the square.
Nina Back To School .
Basketball .
Elsa Hex Puzzle .
Secret BFF .
Billiard Blitz Challenge .
Snail Bob 3 In this third adventure of the Snail Bob series, Bob is stuck in ancient Egypt.
Match The Animal .
Web Of Love In this cute puzzle game you need to help two spiders who are madly in love, but got separated from each other. Reunite the two sweethearts by guiding one spider across the leaves.
Greedy Rabbit Help the greedy little rabbit in this cute platform game to collect all the yummy vegetables.