Zombie Massacre
11/08/2017
Protect the innocent people in the Wild West and defeat the zombie hordes!
Category:action,skill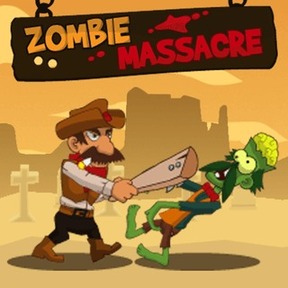 Recent
World Cup Penalty In World Cup Penalty you have to win several matches and battle your way right up to the final.
Happy Cat .
Solitaire Klondike .
Kitty Bubbles Your task in this adorable Kitty bubble shooter is to match at least 3 same-colored balls of wool to remove them from the field.
City Dunk .
Super Loom: Triple Single .
2Cars .
Traffic .
name .
Crazy Freekick Pick your favorite soccer team and get ready for some free kick action! Timing is crucial here: stop the bars at the right moment to score a goal.
Tower Mania It's Tower Mania time! Place each block carefully and stack the levels higher and higher.
Sushi Rolls - Cooking With Emma .
Sailor Pop In this cute underwater collapse game, your task is to match at least 2 fishes of the same color to free them.
3D Solitaire .
Baboo: Rainbow Puzzle .
Fancy Diver Find at least 3 corals of the same color that are chained together to save the Fancy Divers from drowning.
Nut Rush 2: Summer Sprint In this sequal of the jump 'n' run game Nut Rush you have to help the squirrel to jump between branches, slide under trees and avoid the hedhogs to gather its beloved nuts.
Pirates! The Match-3 .
Racing Monster Trucks .
Basket Monsterz .